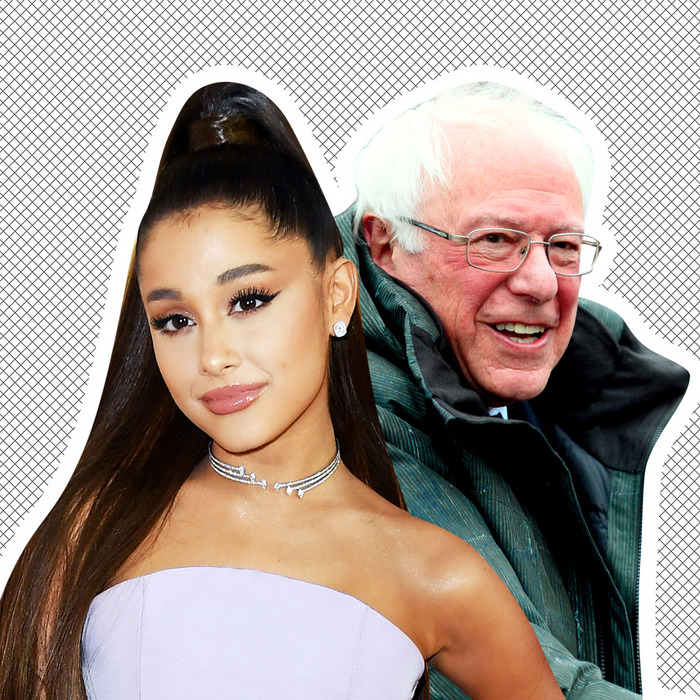 We know what Bernie Sanders doesn't like: capitalism. What he does like is more of a mystery, but we know that he enjoys functional winter coats from Vermont snowboarder brand Burton, grilling his own meats (though he has been eating more salads lately), baseball, staying hydrated, and now … Ariana Grande.
The first inkling came in October, when Sanders responded to Grande's tweet "baby how you feelin" with a response I'm sure she was expecting: "Ready to fight for Medicare for All." Then, last night, Sanders attended the singer's concert in Atlanta and posed for sweet photos backstage, which Grande posted on Instagram, calling him "MY GUY."
Maybe you didn't picture Sanders backing out of his driveway to "Bang Bang," but music taste is incredibly subjective and you never know what kinds of things people are going to enjoy. Just try not to be moved by the combination of Bernie's cable-knit sweater and Grande's acrylic nails, a broad coalition if I have ever seen one.
In addition to Grande's thoughts on supporting or not supporting a public option, it's imperative that we find out what Bernie's favorite Ariana Grande song is. Below, the Cut staff offers their extremely thoughtful conjectures:
"Fake Smile"
Because Bernie is no poser. "If he's hurt, he ain't gon' lie about it / Arms crossed with the attitude, lips pouted / If he's mad, he ain't gon' lie about it / Neck roll with the attitude, yeah." —Emilia Petrarca, fashion writer
"Honeymoon Avenue"
Because Bernie loves a doo-wop moment! —Kerensa Cadenas, culture editor
"One Last Time"
Because it is my favorite Ariana song. It's also very fiery and apocalyptic in a way I think resonates with him." —Katie Heaney, senior health writer
"Monopoly"
Because it's hot and underrated but will get its moment someday. —Jordan Larson, essays editor
"7 Rings"
Because it illustrates how wealthy Americans can absolutely afford a higher tax rate. —Madeleine Aggeler, writer
Because of its overt interest in capitalism, but he actually interprets it as an ironically detached paean to socialism. —Kelly Conaboy, writer at large
"No Tears Left to Cry"
Because the one percent has taken all of our tears … —Bridget Read, writer
"God Is a Woman"
But you have to read the lyrics in Bernie Sanders's voice. That's important. — Madison Malone Kircher, Vulture writer
"Break Up With Your Girlfriend, I'm Bored"
I feel like he would really groove to the line "Damn, this ain't fair." —Amanda Arnold, writer
"Side to Side"
Because it's about endurance. Yes, it's about fucking so hard you can barely walk the next day, but you still walk, and that's what matters. —Allison Davis, features writer